Q#73: August - September 2010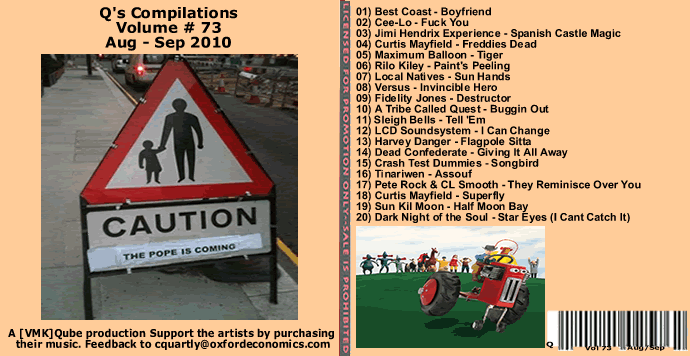 Download link
Please note that the zip file has a password: Q73
http://www.mediafire.com/?2nnyle7ps8jv6hy
Q's Compilations – Volume # 73 – August – September 2010
Hello! Summer seems to have come and gone, although as I type these it is rather nice. Had a good holiday out in the US early September, I did try not to buy as many CDs as usual but I did end up with around 25. As you can imagine, quite a few of these appear on the compilation.
01) Best Coast – Boyfriend: The best pop tune of recent memory, I just adore the whole thing. The album (Crazy For You, released in July) is filled with summery pop-songs with a Jesus-and-Mary-Chain feedback tinge, it's just a wonderful marriage of sound and song. "The other girl is not like me, She's prettier and skinnier, She has a college degree, I dropped out when I was seventeen"
02) Cee-Lo - Fuck You: Another great new pop song, the lyrics may scream "novelty track" but the composition of the actual song and the quality of the vocal from Cee-Lo have made this one of my most played songs in recent weeks. Cee-Lo Green is perhaps best known as a member of Gnarls Barkely. "I guess he's an xbox and i'm more atari, But the way you play your game ain't fair."
03) Jimi Hendrix Experience - Spanish Castle Magic: We have just passed the 40th anniversary of Jimi's death (this tracks inclusion is coincidental as I had already earmarked it) which was September the 18th, 1970. This tune doesn't really get the plaudits I think it deserves compared to other Jimi tunes, so I wanted to include it here. I recently picked up the newly remastered Axis: Bold as Love, for a fiver. "The clouds are really low, And they overflow with cotton candy "
04) Curtis Mayfield – Freddie's Dead: A recent holiday purchase was the 2-cd reissue of Curtis' Superfly soundtrack, an undoubted classic. Sadly I didn't get much feedback for the last Curtis track I used recently but I won't attribute that to cloth-ear syndrome just yet. "Everybody's misused him, ripped him up and abused him. Another junkie plan, pushin' dope for the man."
05) Maximum Balloon – Tiger: Dave Sitek of TV On the Radio has just released his debut solo album under the moniker of Maximum Balloon, which features vocal performances from many familiar voices if you are a fan of the band. This song features Akon of Dragons of Zynth and was the leading single from the album (if there are indeed "singles" these days). The album is more upbeat and dancier than TV On the Radio (who of course can be dancey and upbeat in their own right) which Sitek attributes to moving to California and having a studio in a house where you can see the sun! "let go everything that you know don't hold back what you feel"
06) Rilo Kiley - Paint's Peeling: I used a track from Jenny and Johnny last time around and I delved further into Jenny Lewis' body of work with the purchase of The Execution of All Things (on which this track appears) and More Adventurous. "I'm not going back to the assholes that made me. And the perfect display of random acts of hopelessness. I wish I could stay here but I think we're all ready. I think we're all ready…."
07) Local Natives - Sun Hands: Gorilla Manor has been my most played album in the last month, easily. Wonderful harmonies and songs, I suspect a lot of people will make comparisons with Fleet Foxes. Gorilla Manor was released in the UK at the end of last year and in the US in February, a bit odd considering the band are from LA. The whole album is great and I hope there will be a few more fans from hearing this. "I climbed to the top of a hill, But I had just missed the sun, And although the descending arc was gone, Left behind were the traces that always follow along"
08) Versus - Invincible Hero: After Flower (a New York indie rock band from 1986-1990, check them out) broke up, Richard Baluyut formed Versus while Ian James formed French (also worth checking out). I didn't know of Versus until they featured as guest editors of Magnet Magazine recently, though Carrie tells me she told me about them ages ago (she just received a stack of French cds from Ian James). I bought On the Ones and Threes, the band's first album in 10 years, while on holiday.
09) Fidelity Jones – Destructor: Another holiday was a 3-CD 20 Years of Dischord boxset for $10, bargain. Details of Fidelity Jones are very sketchy with only 1 recorded EP to their credit, which is a shame as this hardcore-funk track is a joy to listen.
10) A Tribe Called Quest – Buggin' Out: I have been delving into the world of hip-hop in the last 6 months and it is proving quite the rewarding experience. I'm starting with the classics and the hidden gems (one of those later) but I find it important to remove myself from my listening comfort zone (if I have one) and have found myself pleasantly surprised at how much I've taken to what I've listened to so far. "I float like gravity, never had a cavity. Got more rhymes than the Winans's got family"
11) Sleigh Bells - Tell 'Em: This Brooklyn duo have just released their debut album, Treats on M.I.A's record label N.E.E.T Recordings. The album is a wonderful dose of noise-pop with heavy beats and distorted guitars. Alexis Krauss (vocals) met Derek Miller (everything else) when Miller was waiting tables at a neighbourhood Brazilian restaurant.
"Cocaine, champagne, cocaine, champagne, cocaine, champagne"
12) LCD Soundsystem - I Can Change: Sadly, the news is that This Is Happening may well be the band's last offering. I finally got to see them live in Brixton earlier in the year and they blew the roof off, as they say, although James Murphy did forget the lyrics to Someone Great (one of my favourite songs by anyone) which was a little inexcusable! "And love is a curse shoved in a hearse, Love is an open book to a verse of your bad poetry. And this is coming from me"
13) Harvey Danger - Flagpole Sitta: Carrie and I have been watching Peep Show lately (I picked up season 1-5 for very little), first of all I can't believe I didn't watch it before, but second of all it brought the fantastic theme tune to my attention. Harvey Danger are known as a one-hit wonder in the US (this is the hit, unsurprisingly) but I did pick up Where Have All the Merrymakers Gone? on holiday (which includes this track) and I think it's a great little record. "I'm not sick but i'm not well
and i'm so hot cause i'm in hell. Been around the world and found that only stupid people are breeding, the cretins cloning and feeding"
14) Dead Confederate - Giving It All Away: I was pretty disappointed that there wasn't any feedback when I used The Rat on Q#70 as I thought it ticked a lot of boxes for many of my subscribers. Since then the band have just released their second album, Sugar. There's a guest appearance on this track from J Mascis who delivers a typically incendiary guitar solo. "You see my eyes are weighted down, I'm tired of the lonely sound, Of the choir's cold control, The hold it's got won't let me go"
15) Crash Test Dummies - Songbird: These days Crash Test Dummies are more of a solo venture for Brad Roberts (though to be fair, that was always the case) but this is the first album in six years since Songs of the Unforgiven. The album features on many songs, an optigan or omnichord, both stemming from Robert's original idea of creating a collection of songs with toy instruments from the 70s, the final product is a bit more "normal" than I was expecting considering a couple of demos that Brad had circulated to fans but it's just nice to have them back. "I listened to a bird that told me all, He seemed to make no sense as I recall, So far I haven't heard a songbird sing, A single verse that told me anything"
16) Tinariwen – Assouf: This band has quite the history (wiki is your friend) and are eventually gaining worldwide critical acclaim, an enthralling mix of blues and West African music.
17) Pete Rock & CL Smooth - They Reminisce Over You: Producer Pete Rock's use of obscure soul and jazz samples make Mecca and the Soul Brother a captivating hip-hop release, the production alone stands up among any release of any genre (apologies for a couple of pops and cackles, must have happened when I was ripping the track and I didn't realise until later). CL is not considered one of the best MCs around but he does a good job on the record I think. "Noddin off, sleep to a jazz tune, I can hear his head banging on the wall in the next room, I get the pillow and hope I don't wake him, For this man do cuss, hear it all in verbatim"
18) Curtis Mayfield – Superfly: I know this is a bit of an obvious tune but it's good to throw those on from time to time! "The game he plays he plays for keeps, Hustlin' times and ghetto streets, Tryin' ta get over"
19) Sun Kil Moon - Half Moon Bay: Mark Kozelek returned with the latest Sun Kil Moon offering, Admiral Fell Promises, in July. The album features 10 songs of Mark playing on classical nylon stringed guitar. I see this as a culmination of Mark's fingerpicking style that he has been working on for the last few years, the classical guitar brings a different dimension to his compositions and there are some lovely intricate parts on the record. "The saddest eyes she wore, So longing and forlorn,
It made me love you more and more, The bluest heart she owns, As she gets more and more alone, as the deepest cello drones"
20) Dark Night of the Soul - Star Eyes (I Cant Catch It): Dark Night of the Soul was released by Danger Mouse and Sparklehorse and features vocal performances from many star guests, this song features director David Lynch (who was also responsible for the artwork on the album, I believe). Sadly Mark Linkous committed suicide in March, shooting himself through the heart. "Love. Please. Come. Back. Send. You. Cry. Gone. I Can't Catch It."
Another compilation done! I hope, as always, that there are things for everyone to enjoy on here. Please do give me some feedback
L
The back picture is from a film called A Town Called Panic, I won tickets to a preview screening and had a great time, fun movie.
Until next time - Q
The mix is best enjoyed by burning the music to CD without 2 second gaps.
Download music files, notes and artwork through this link:
http://www.megaupload.com/?d=N7RWN7WS
Alternative download link through mediafire - http://www.mediafire.com/?6vwi0avc5ix3g5i